A View of the Valley from 35,000 feet up
Well, his head was in the clouds so he sort of missed Dunster, but when Robin Barton was flying over the valley on September 24, 2000, he captured some nice shots of the surrounding area.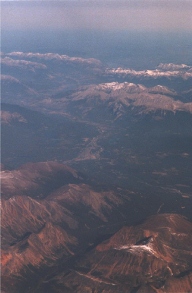 Looking north over Jasper towards Hinton
The valley in the foreground is Portal Creek, with Marmot and Whistler mountains between the valley and Jasper townsite. The Icefields Parkway heads out at center right of the photo, while Highway 16 west is hidden behind Whistler mountain at center left.
Click on photo for larger image (411K).
Two awesome shots of Mt. Robson
Click on either picture for a larger image (399K and 408K)
Looking northeast across the Robson Valley between Dome Creek (out of photo to left) and Crescent Spur (center right).
Prominent single peak in the background is Mt. Ida, and cluster of peaks to the right of Mt. Ida is Mt. Sir Alexander.
Click on either photo for larger image (382K and 391K).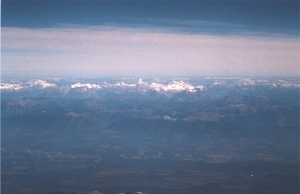 Home || Community || Events || Bulletin Board || Local Services || Gallery || Weather || Road Report || Links
Dunster History || Dunster Place Names || Where in the World is Dunster || Community Groups
Dunster Community Hall || Dunster General Store || Dunster Train Station || Dunster Fine Arts School || Croydon Cemetery
Thank you for visiting the Dunster Community Website!
Web design by Birgit Stutz

Site hosted by